Topcats Racing was founded in 2002 by husband and wife, Charlotte and Warren Gilbert who are supported by a team of skilled engineers.
Their shared love of the sport and desire to run their own team was realised in 2002 when they founded Topcats Racing and continued to run Marcos in British GT alongside a car in the TVR Tuscan Challenge. The team went on to convert an AJPV8 TVR Tuscan Challenge into a 2 seater for track days allowing TVR fans to drive the car for themselves with Charlotte instructing from the passenger seat! A second Tuscan was converted, and the team ran both cars on the Silverstone GP and Donington circuits for 6 years, enabling around 400 TVR enthusiasts to fulfil an otherwise impossible dream!
In the same year the TVR Service Division was established and the team very quickly filled their service diary. The team made an initial move to another building, on the park where they are still located to accommodate the growing business, with the ambition to build their own custom-built workshop designed around a facility that could be used and enjoyed by clients.
This was realised in August 2014 with a Grand Opening attracting over 300 cars!
Charlotte started racing cars at the beginning of 1994 in the Renault 5 GT Turbo Championship but was in awe of the monstrous TVR Tuscan Challenge race cars when she saw them for the first time at Cadwell Park. With just 4 races ever under her belt, she raised sponsorship to join a team and race a TVR Tuscan for the first time. Anecdotally, Charlotte joined Colin Blower Motorsport for the Snetterton round where TVR boss, Peter Wheeler was also racing. He promised to eat his crash helmet if he was beaten by her……he was but he never fulfilled his promise! During her time racing TVR's, Charlotte gained a great deal of experience working at The TVR Centre as part of her sponsorship deal as well as driving the new Griffith 500 for the press at Oulton Park. Charlotte went on to race in British GT and Britcar where she won driver of the year.
Charlotte manages the businesses accounts, social media, customer relations and events.
Warren coincidentally started racing in the same year as his wife but as yet unknown to each other. He built his own Caterham Seven in his garage and drove it to his first race with a bucket of tools, while all the other race cars arrived with race teams on transporters! He gained the reputation of 'the bridesmaid' - the grid was huge, but he earned his place many times on the 2nd step of the podium, while the win eluded him!
Charlotte and Warren met in 2001 when Charlotte was chosen for the sponsored drive with Promotosport in British GT while Warren was the team manager. Whilst racing has been sporadic for Charlotte in recent years, Warren continues to win races, often in spectacular style, in their hugely successful sister Marcos Mantis GT cars alongside their customer drivers.
Warren manages the workshop, race events and vehicle development.
Our Chief Engineer has been with Topcats Racing from the start and has worked with Warren for 30 years, in the beginning as his mechanic when Warren was a car dealer then joining Warren at Promotasport. Brian is our chief engine and gearbox builder, an expert auto electrician and chief race engineer with vast experience in vehicle performance set up.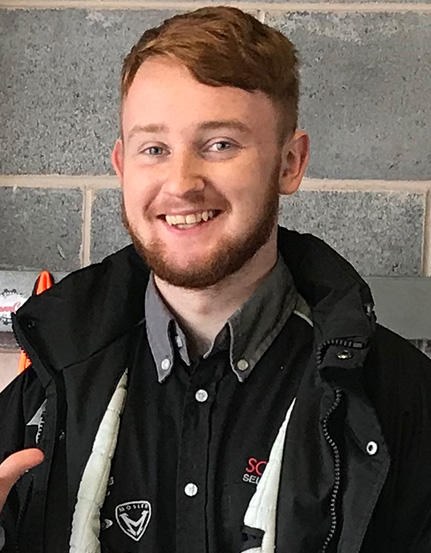 Nephew to Brian Howard, we figured he had a good pedigree and we were right. He came to our team as an apprentice and has since gained his engineering qualifications. With Brian as his mentor, he is a fast learning, competent and conscientious engineer and also skilled in fabrication.
Carey has been a loyal and popular engineer with our race team for several years supporting our race cars on track. In 2019, he joined us as an engineer to bolster our ever-growing servicing division.
Paul Steffens
Race Engineer / Race Strategy / Radio
Darren Drinkwater
Race Strategy / Technical Support / Radio
Tom Watson
Race Engineer / Data